CHIROPRACTIC CARE • REHABILITATION • MASSAGE THERAPY
Function Better
Feel Better
Live Better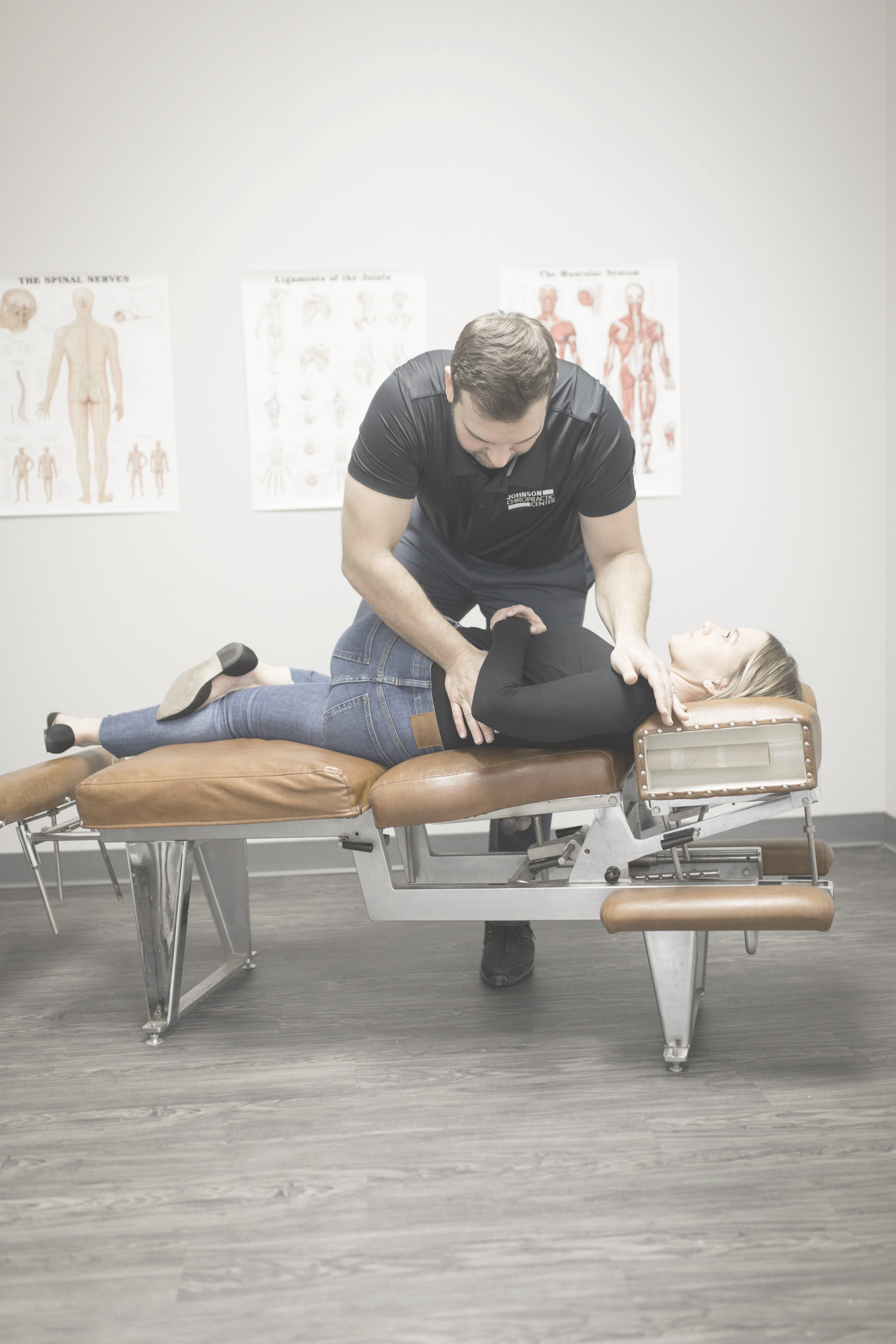 Personalized Treatment
Every person is different and every treatment is different. We treat the individual not just the injury.
Evidence-Based Care

Using proven methods of spinal manipulation and supportive therapies, we approach each injury with the science of both investigation and treatment.
Hablamos Español

Nos alegra a servir nuestra comunidad del Noroeste Arkansas.
La comunicación es muy importante en tratar y el Dr. Johnson se engorullece de tener la habilidad de comunicarse con más pacientes en su idioma.
About
Dr. Johnson
Dr. Johnson believes the best treatment is not only treating the injury but treating the individual.
He received his doctorate from the Cleveland Chiropractic College in Kansas City. He is also certified in the Webster Technique and speaks fluent Spanish. Dr. Johnson is board-certified in Physiotherapy by the NBCE and is licensed by the Arkansas State Board of Chiropractic Examiners. Dr. Johnson is a member of the Arkansas Chiropractic Physicians Association and the American Chiropractic Association, and is also a certified personal trainer.
Dr. Johnson offers pediatric, personal injury, rehabilitative, and wellness care.
Chiropractic Care
What is Chiropractic?
Chiropractic is a health care profession that focuses on disorders of the musculoskeletal system and the nervous system, and the effects of these disorders on general health. Chiropractic services are used most often to treat neuromusculoskeletal complaints, including but not limited to back pain, neck pain, pain in the joints of the arms or legs, and headaches. LEARN MORE
Why Choose Chiropractic?
It is estimated that doctors of chiropractic (DCs) treat about 35 million Americans (adults and children) annually.

DCs are licensed to practice in all 50 states and the District of Columbia--and in many nations around the world--and undergo a rigorous education in the healing sciences at institutions accredited by the U.S. Department of Education.

A growing list of research studies and reviews demonstrate that the services provided by chiropractic physicians are both safe and effective. The evidence strongly supports the natural, whole-body and cost-effective approach of chiropractic services for a variety of conditions.

Chiropractic services are included in most health insurance plans, including Medicare and major medical plans from Blue Cross Blue Shield, United Health Care, and Ambetter among others.

Chiropractic is used extensively by amateur and professional athletes to prevent and treat injuries as well as achieve optimal health and performance.